Colored Answers
Mix colors spurts and send them to the exit by setting walls and floors. Fantasy Console Game Jam entry, which theme was "Union", made in 6 days with Pico-8.
Controls:
Arrows to move cursor
C to pick/drop wall
X to join next level once current is done
Enter for options. You may want to check them...
18 levels only for now, time was short! So the game's still under dev, but it'll probably be another game besides this jam version I want to keep too.

Twitter: @GregosEl
Fantasy Console Game Jam page: https://itch.io/jam/fantasy-console-game-jam-1/rate/158531
Comments
Log in with itch.io to leave a comment.
stuck in the second level ! but like the simplistic but clever gameplay :)
Remember you sometimes have to pick floor tiles to drop them on another place, just like the 1st level. In fact I'll get rid of this on future versions because it's a useless complication to the game, but anyway, here's the solution: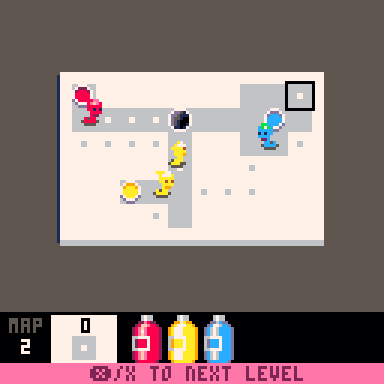 got it and after stuck on level 3 :( i managed from time to time to mix blue and yellow but didn't get the logic...Anyway hard to leave this cute game ! with some basic sound maybe even harder to stop playing!